Rain, rain go away
Come again another day.
If you live in the UK you'll be aware of how rubbish the weather has been here recently. My thoughts go out to those affected by the flooding in the North. In the South East we've had some roads flooded but no houses that I'm aware of, thank goodness. Getting to and from work the last few days has felt like a bit of an assault course though! It took me TWO HOURS to get home from work on Friday, a journey which normally takes me half an hour. Sigh.
Today's manicure is inspired by the bad weather. I kind of made it up as I went along, but I was pleasantly surprised by how it turned out.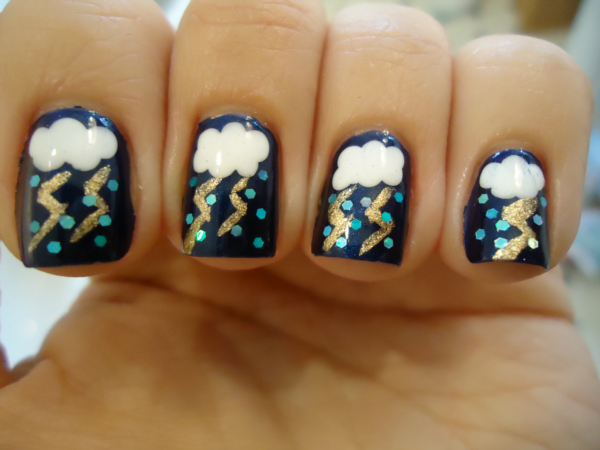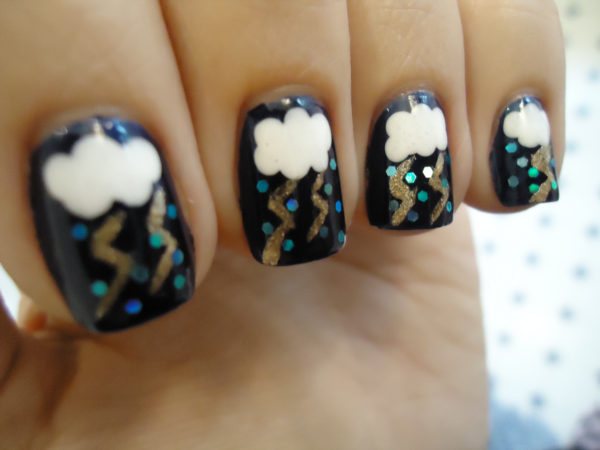 I started with two coats of OPI Yoga-ta Get This Blue for the sky. The white clouds (I didn't think grey would show up well enough) are OPI Alpine Snow, and I used an Andrea Fulerton gold striper for the lightning. The rain is made of loose blue glitter that I got in a set in WH Smith (I used the orange glitter in this manicure) and stuck on individually.