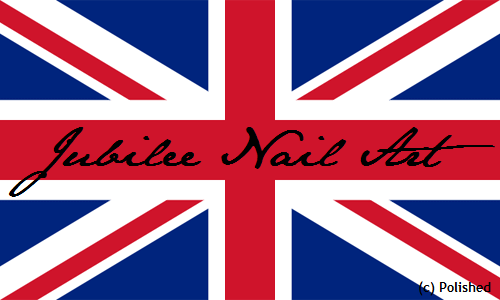 Hello and welcome to the first of three Jubilee manicures posts! If you don't already know that the Queen is celebrating the 60th anniversary of her ascension to the throne this year...err, then what rock have you been hiding under?! I showed you how to make easy Jubilee cupcakes on Friday, and today I'm demonstrating my Union Jack nails. Photos first, I think: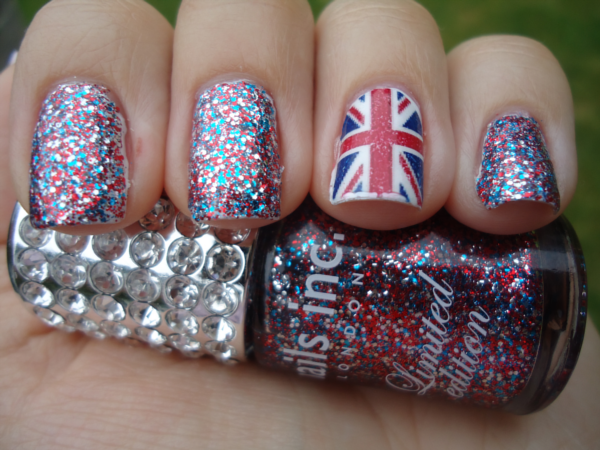 The glitter is a new one from Nails Inc released especially for the Queen's Jubilee - called, of course, Jubilee! Inspired by the colours of the Union Jack, it's comprised of red, blue and silver glitter. It's really densely packed - my photos show one generous coat over OPI Alpine Snow, a white creme. It comes with Nails Inc's distinctive crystal cap, and while I have a lot of Nails Inc polishes, this is my first with this cap. LOVE IT.
I also chose to do an accent nail of the Union Jack itself using some water decals I bought on eBay. It was very easy to apply, but unfortunately it didn't last very well - after only a couple of hours, you can see that it's fading at the tip of the nail despite the top coat I put over it. Nonetheless, I really liked this manicure and I got a ton of compliments on it when I wore it to work yesterday!
I'll let you in on a secret: I've had to do my three nail art designs in advance because I'm helping with the baking for a 1950s-style tea party at work (which is an historic house, so we're open to the public for the Jubilee). It means I can't actually wear nail polish today and tomorrow. *sob* I genuinely can't remember the last time I had bare nails for longer than an hour or two!