What a surprise, another purple manicure from me!
I have said it maaaany times before, and I'll say it again: I love purple. There's something very sophisticated and regal about the colour - but fun too. My favourite coat is a bright purple one that I wear almost every day in the winter. I basically live in it for five months of the year. Purple always looks classy and it goes with almost anything. (Obsessed? Moi?)
So today I have purple polks dots to show you. I started with a base of Topshop Parma Violet, which is a greyish lilac shade. It's very soft and very pretty. It's not quite the colour of actual Parma Violets, though: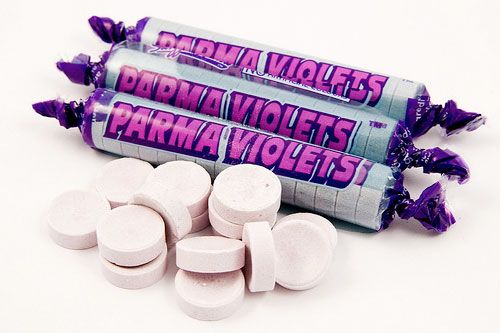 I am actually eating some of these right now. I haven't seen them sold anywhere for years, and then I found them at the garden centre the other day when I was buying's Claude's hamster food. Random!
I used Nails Inc Little Miss Naughty, which is one of my favourite purple cremes, and a dotting tool to make the polka dots. I'm actually surprised at how straight and uniform they came out!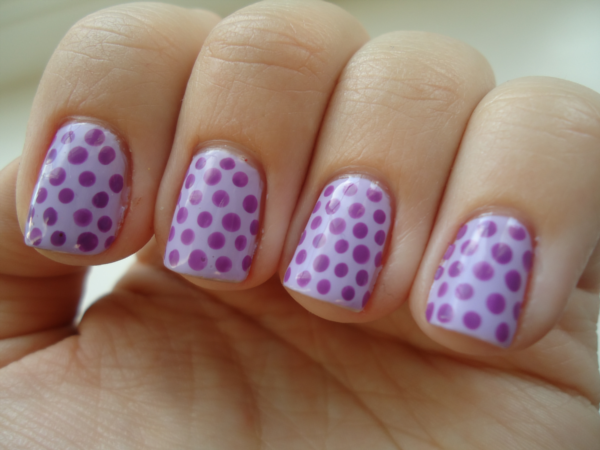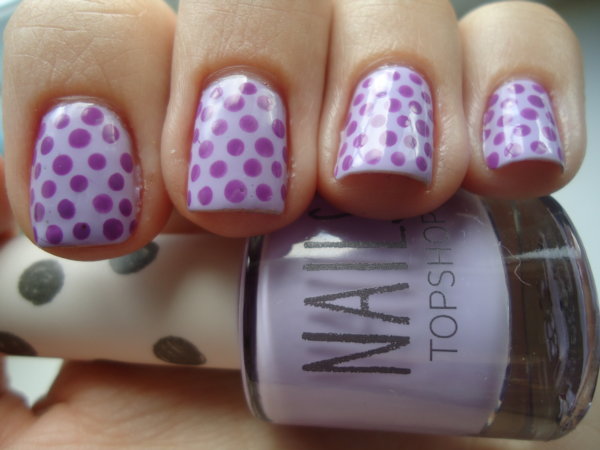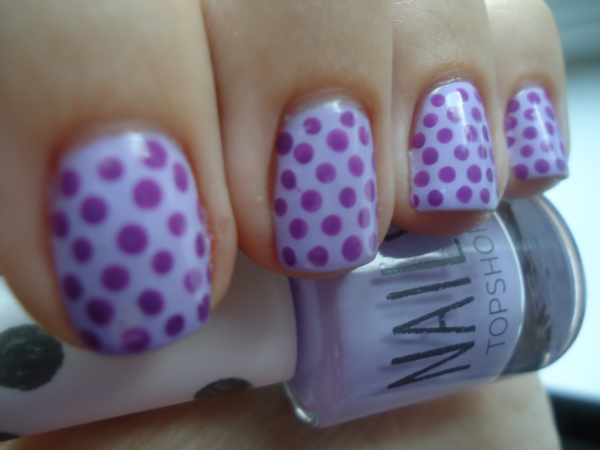 My mum is a purple fiend too. She often quotes a poem by Jenny Joseph, which I have included below:
When I am an old woman I shall wear purple
With a red hat which doesn't go and doesn't suit me.
And I shall spend my pension on brandy and summer gloves
And satin sandals, and say we've no money for butter.
I shall sit down on the pavement when I'm tired
And gobble up samples in shops and press alarm bells
And run my stick along the public railings
And make up for the sobriety of my youth.
I shall go out in the slippers in the rain
And pick the flowers in other people's gardens
And learn to spit.
You can wear terrible shirts and grow more fat
And eat three pounds of sausages at a go
Or only bread and pickle for a week
And hoard pens and pencils and beermats and things in boxes.
But now we must have clothes that keep us dry
And pay our rent and not swear in the street
And set a good example for the children.
We must have friends to dinner and read the papers.
But maybe I ought to practise a little now?
So people who know me are not too shocked and surprised
When suddenly I am old, and start to wear purple.
-Jenny Joseph, 1961
Are you a fan of purple too? What's your favourite nail polish colour to wear, if you have one?