I've been trying to curb my nail polish buying recently with some success. There's a particular polish that I've been lusting after for a while, Topshop Gypsy Night, and for the last few weeks I have found myself debating whether or not to get it. I bookmarked its page on the Topshop website and I kept looking at it every so often, like nail porn. Then, on Thursday, I popped into my nearest Topshop on my way home from work (confession: it wasn't exactly on my route, I took a little detour) to find they'd revamped the make-up section and made it
ah-mazing
. Even better, they had Gypsy Night in stock! Well, it was like fate, wasn't it? So Gypsy Night came home with me, as did AWOL, which I'll show you another day.
Gypsy Night is such an interesting polish - I haven't seen anything quite like it before. It's a black jelly with flakies and holographic glitter. The flakies flash the red/gold/green combination seen in Nubar 2010, but they're a bit smaller. As with most jellies it's quite sheer, so I layered one coat over a black creme for the photos below. It dries very smooth, but I used a top coat anyway.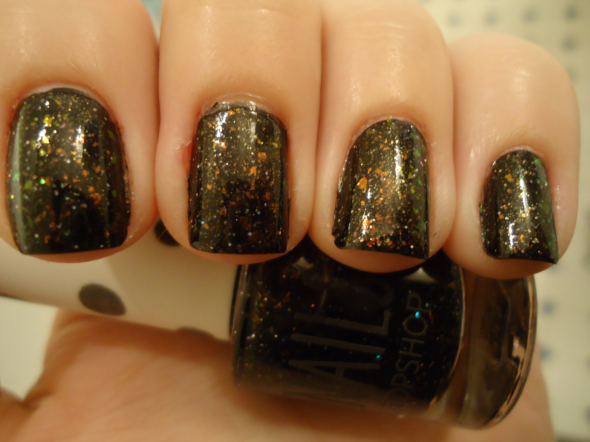 I love this polish even more than I thought I would. It looks even better in real life than it does in my photos. And does it remind anyone else a bit of galaxy nails?!