Erin go Bragh!
I don't know about you, but I'm celebrating St Patrick's Day in two very traditional ways: by having a lovely pint of Guinness, and by painting my nails green!
For today's manicure I started with two coats of China Glaze Holly-Day, which is from their Let It Snow collection that came out last winter. It's a deep green creme that covers perfectly in two coats. I then used a dotting tool to draw shamrocks on all my nails using the green foil Color Club Kiss Me Mistletoe, also a Christmas shade from last year. The shamrocks were surprisingly easy to do - I did three little heart shapes with the points all facing each other. I drew a large shamrock on all but my ring fingers, which got mini ones. In hindsight I wish I'd just done another large one, but oh well. The stalks were done using a striper brush.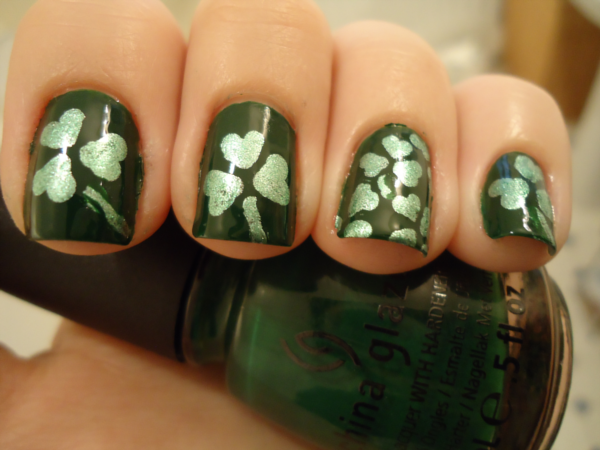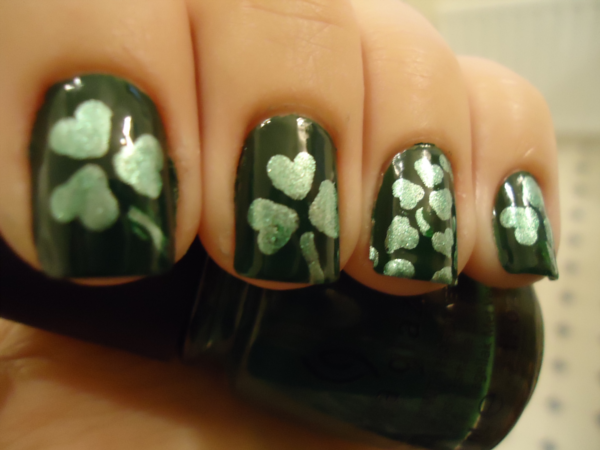 Yes, I mucked up the stalks a bit. It wouldn't be normal for one of my manicures to actually turn out perfectly! XD In truth it's because I did this last night while I was watching New Girl, so only half my attention was actually on painting my nails (the other half was on Nick. I can't help it. I love him so!).