Today I'm showing you my third and final indie polish from Lilacquer. You can see my swatches of Selkie and Lycanthrope by clicking the links. This colour continues the mythology theme with the name Kitsune.
From Wikipedia: Kitsune is the Japanese word for fox. Foxes are a common subject of Japanese folklore; in English, kitsune refers to them in this context. Stories depict them as intelligent beings and as possessing magical abilities that increase with their age and wisdom. Foremost among these is the ability to assume human form. While some folktales speak of kitsune employing this ability to trick others, other stories portray them as faithful guardians, friends, lovers, and wives.
Like the other two Lilacquer polishes I've shown you, it's a duochrome shimmer top coat - this is a green/red one. This was definitely the thickest formula of the three polishes, so I put a few drops of thinner in it first. As with Lycanthrope I started with two coats of Nails Inc Black Taxi, followed by two coats of Kitsune. I was very lucky again to have some lovely sun for these photos, so you can see Kitsune at its sparkliest.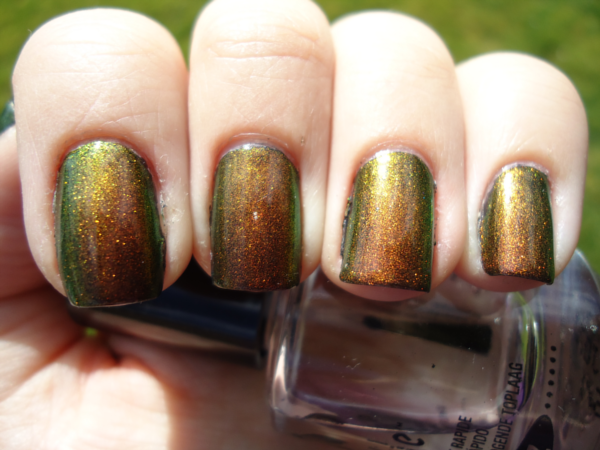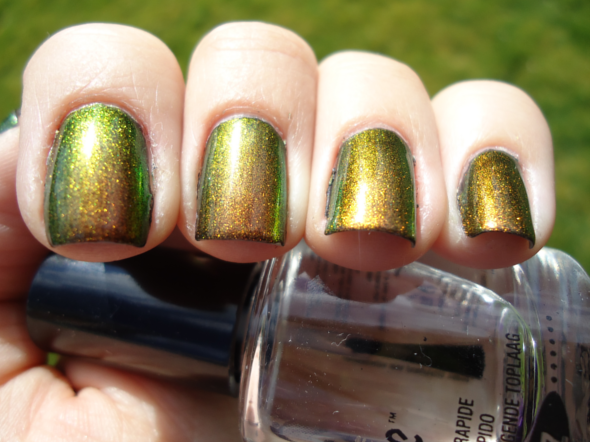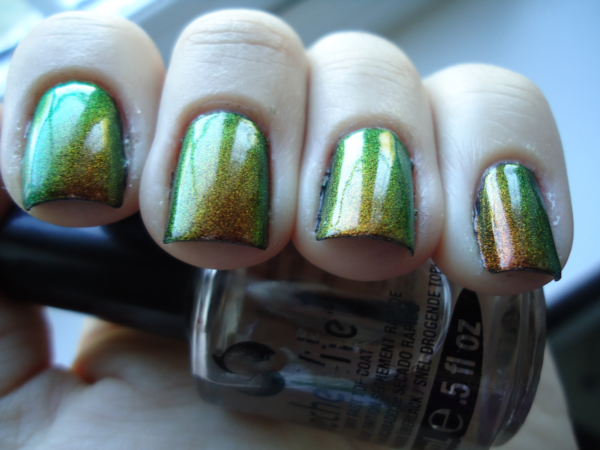 It's very pretty, but it's actually my least favourite of the three. I have no idea why. The red/gold makes me feel that this polish is quite autumnal, so maybe I'll like it more later this year?!
Lilacquer Kitsune retails for $6 (about £3.80) for 5ml. It's not an Etsy shop; to order you email the creater directly and pay by PayPal. International shipping is available at a very reasonable price, and delivery is quite fast - it took 10 days to reach me in the UK from the States. I'm really pleased with my three Lilacquer polishes. They're so beautiful and can be layered over whatever polish takes your fancy to create something truly unique. I hope you've enjoyed looking at them as much as I've enjoyed wearing them!