Happy (almost) Halloween! I've had a busy day today. After work I came home and baked sugar cookies in the shape of bats, pumpkins, ghosts and witches for my friends to decorate tomorrow. I then carved my pumpkin, which was a lot easier than I thought it would be (I've only carved a pumpkin once before, back when I was about sixteen). I went for a vampire face and it looks really cool.
Anyway, for my final Halloween design I decided to attempt stamping again and settled on bat design from one of the Bundle Monster plates. I love bats. We have pipistrelles in our garden and I love watching them swoop around in the evening - which is where my inspiration for this manicure came from. I started with two coats of Barry M Matt White before using LA Colors Shock (yellow), Barry M Block Orange (um...hopefully self-explanatory) and OPI Strawberry Margarita (pink) to create a sunset gradient. It's only the second time I've done a gradient (the first is here) and I'm pretty pleased with how it turned out. Finally, I stamped the bats on using Nails Inc Black Taxi.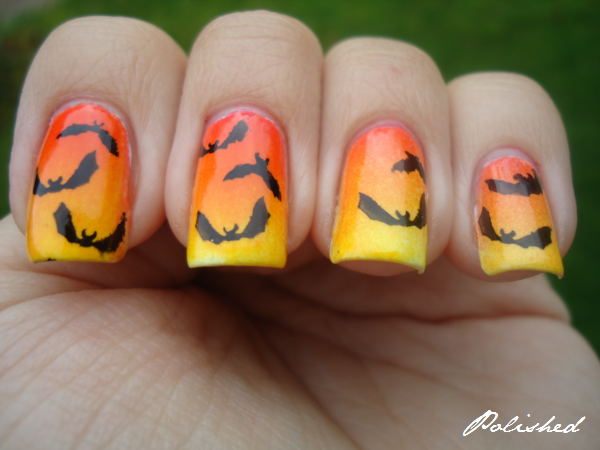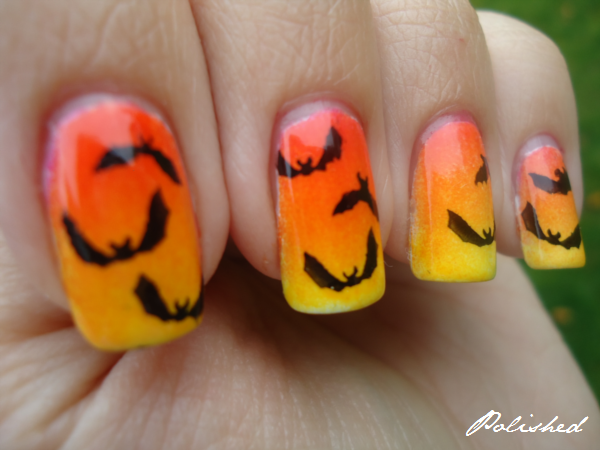 The smaller of the two bats didn't transfer very well. The larger one was fine so I think it might be the plate rather than my own ineptitude. I tried to fix it with a brush but ended up making the higher bat on my little finger look really bloated! Oops.