When I was in Spain a couple of weeks ago (I can't believe it was that long ago already!) I went on a mission to find some Essence polishes. I thought they'd just be sold in chemists like nail polish is here, but apparently not. After some Googling I found a shop on Calle de Fuencarral called Beautik. It turned out to be a great place - not only did they sell Essence, they also stocked Catrice, Konad, two Layla ranges, and a few other brands. I was quite restrained and limited myself to one Catrice, a Konad plate, and four Essence colours, one of which I'm showing you today.
I really like grey polish at the moment, so Essence I'm the Boss is right up my alley. It's a medium to dark grey polish with sparse-ish silver glitter. It's really pretty and was opaque in two easy coats. To make it Halloween-y I stamped spider webs using a Bundle Monster plate and Barry M Silver Foil. I'm still working on my stamping skills so the image didn't transfer perfectly, but I think it adds to the effect rather than detracting from it (that's my story and I'm sticking to it). Finally, I used Nails Inc Black Taxi and some striping tape to make black French tips.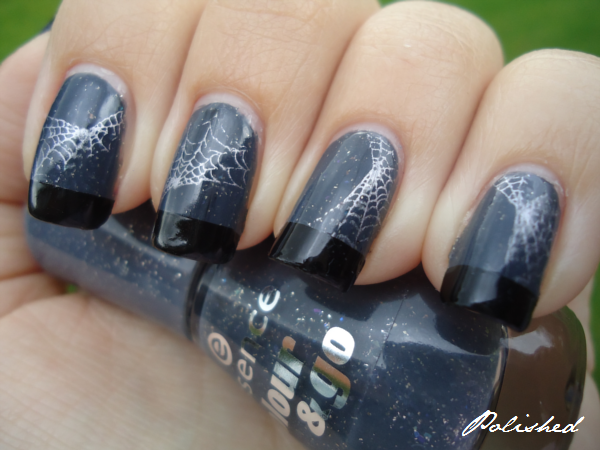 I went to Waitrose today and they had a section dedicated to Halloween food and decorations. I bought a bunch of it. Apparently if something is coloured orange and black at this time of year, I will buy it. All of it. People don't really trick or treat where I live but I bought some spooky chocolate just in case - and if we don't get anyone, oh well, more for me!