Hi, quick post today because I'm really busy. I've literally just finished watching the latest episode of
Downton Abbey
, I can't believe it's the series finale next week? What will I do with my Sunday nights once it's gone?!
Today I'm showing you a Halloween mummy design I did a couple of days ago. I followed a tutorial by Kayla Shevonne, although hers turned out a lot more mummy-like than mine! I asked a few people what they thought the design was and no one got it right - my mum thought they were supposed to be gladiator sandals with eyes. WTF? Let's see what you think!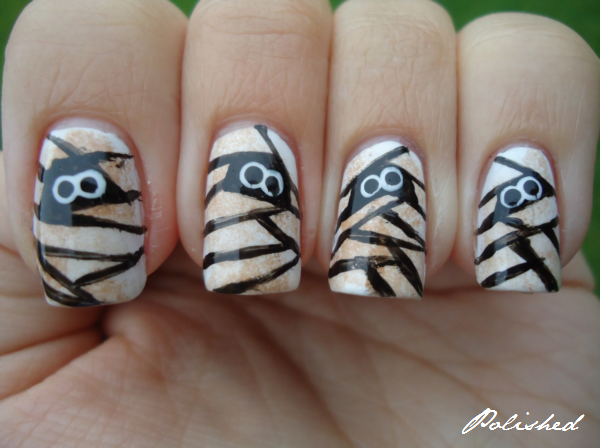 I started with a base of Barry M Matt White before sponging on OPI San Tan-tonio to make it look dirty. I then used my trusty Models Own black nail art pen for the bandages. The lines aren't as opaque as I'd like, but oh well.
What are you up to for Halloween this year? I'm having a few friends over - I'm baking Halloween-shaped sugar cookies in advance for my friends to decorate on the night. Because we're cool like that. I have an awesome costume idea that I'm really excited about, but I'll keep schtum about it until the actual day. :)