Happy Easter! I'm not religious, so for me today is more about celebrating the fact I get to eat a ridiculous amount of chocolate than it is anything else. XD I hope everyone has had/is having a brilliant Easter. I was working this morning (no four-day weekend for me - I'm working every day of it!) but I've spent the afternoon baking Easter-themed cupcakes. Yum.
Anyway, today's nails are a variant on what I've seen on a few other blogs recently and are inspired by Easter eggs - the painted kind, not the kind you eat. Pictures first (featuring the special guest appearance of my thumb!):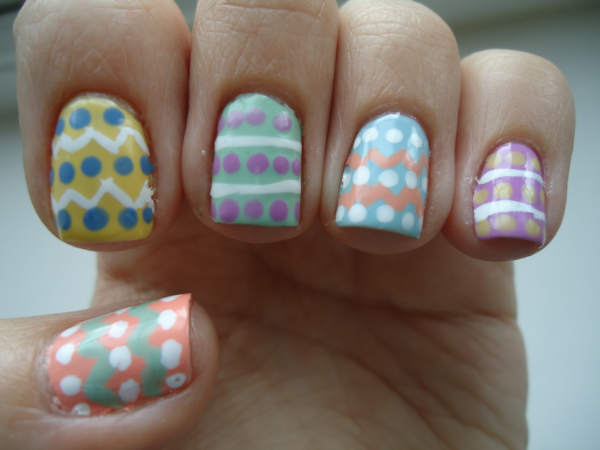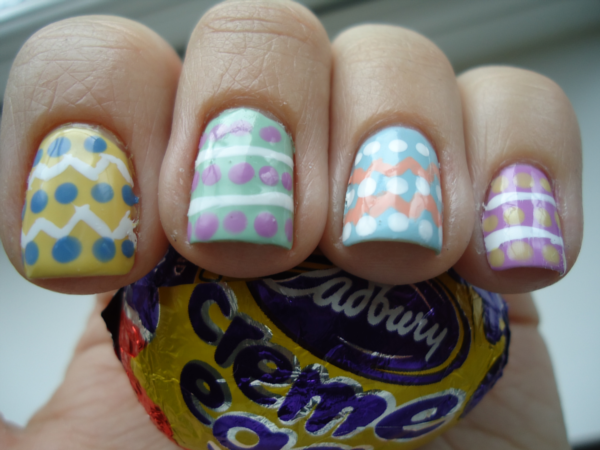 Why yes, that is a Cadbury Creme Egg. And yes, I did eat it after taking these photos!
I painted my nails at 11 o'clock last night so I wasn't entirely awake and alert during the whole thing, but I'm still rather pleased with my efforts all the same. For the most part I used the same polishes as in my rainbow cheetah manicure, as you may notice I also did a rainbow with the base colours:
Peach - Barry M Peach Melba
Yellow - OPI Banana Bandanna
Green - Revlon Minted
Blue - Barry M Blue Moon
Lilac - Barry M Berry Ice Cream
White - Models Own Wah Nail Art Pen
And one more bonus photo: