Last month I showed you
Nubar Innocent Whispers
, a pretty grey/pink duochrome. I mentioned that it reminded me a bit of OPI Give Me the Moon, so here is the proper comparison between them!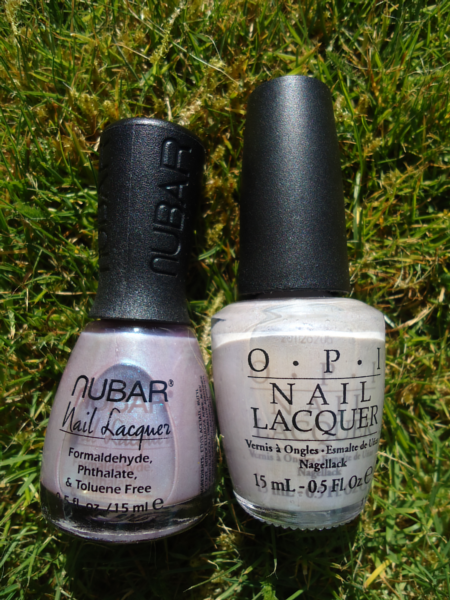 In the bottle, these two polishes are clearly very different. The Nubar looks lilac with a blue shimmer, while the OPI just looks...grey. But as we all know, what a polish looks like in the bottle very often doesn't translate onto the nails, so here's what they look like on me: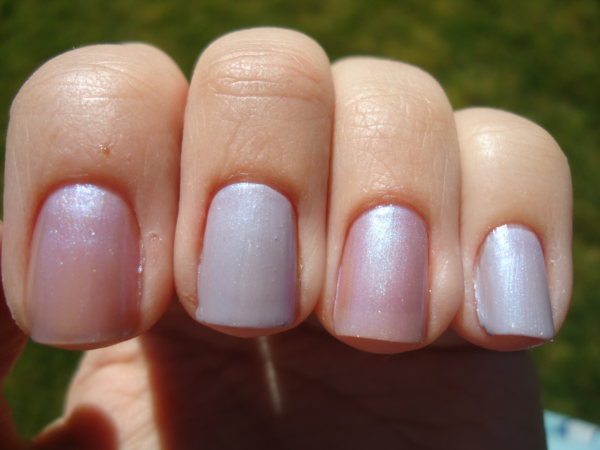 From left to right:
Nubar Innocent Whispers (two coats)
OPI Give Me the Moon (two coats)
Nubar Innocent Whispers (four coats)
OPI Give Me the Moon (four coats)
Hmmm, they're still not as similar as I thought they'd be! The Nubar is much pinker - and sheerer. The OPI is paler and more opaque, and it doesn't shift colour the way Innocent Whispers does. What is similar, however, is the blue shimmer apparent in both these colours. Oh well, at least we know now that they're not even remotely dupes!
P.S. Apologies for the horrendous state of my hands! The freakily warm weather in March has played havoc with my skin, and even my beloved E45 cream has been powerless against it.