Today's nail polish is very special to me. Nails Inc St John's Wood was the first salon polish I ever bought, and it is what really got me interested in nail polish to the extent I am now. So as well as sharing swatches of it, I thought it might be fun to tell you how I became such a polish addict! If you don't want to read this, you can skip to the photos at the bottom. :)
I've been a fan of painting my nails for as long as I can remember - when I was very young I used to paint my nails with a Polly Pocket pink water-based nail polish that was intended to peel off your nails. When I was eleven, my parents gave in to my persistent begging and let me get my first proper nail polish. I got rid of it years and year ago, but I remember that it was by Rimmel and was pale blue with silver glitter - not exactly a conventional polish for your average eleven-year-old!
Once I got my first Saturday job when I was sixteen, I began to buy more polishes and accumulated quite a collection of Barry M ones. I used to like doing skittle manicures and paint each nail a different colour of the rainbow. Regular customers at my next Saturday job (in a supermarket...fun times) began to comment on them and tell me they looked forward to seeing what colour I would paint my nails next.
Then, about three years ago, I went to London on a shopping trip and walked past a Nails Inc salon, and I'd treat myself to a manicure. The colour I chose was St John's Wood, and I liked it so much that I left with a bottle of it. I Googled Nails Inc when I got home and bought some online. Then I bought more. And more. They were more expensive than I was used to paying for a single nail polish, but I couldn't believe the amazing formula. Two years ago, I subscribed to Grazia magazine and got five OPIs free. Then I bought more. Last year, I moved to the Isle of Wight for a summer job, and I stumbled upon a salon selling China Glaze. I had never heard of this brand before, so I Googled it... And the wonderful world of nail blogging opened up before me.
I've discovered a lot of incredible nail polishes since then, but St John's Wood will always hold a special place in my heart/collection. It's a stunning dusty blue/purple creme that is impossible to photograph correctly. (Just look at how different it appears under the two lighting conditions!) It applies like a dream and is so pigmented that it's almost opaque in one coat, but needs two to look perfect.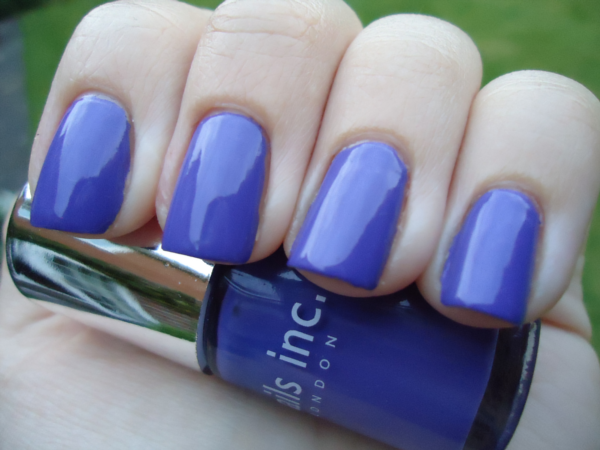 So that's my story! Sorry I rambled a bit. XD I would be really interested to hear how you got into nail polish and/or nail blogging. :)