Good evening! I bought some French tip guides on eBay recently that came in a variety of different patterns - chevrons, curves, zigzags, waves, etc. The one I used for today's manicure was the wavy one.
I started with two coats of OPI Pamplona Purple, a medium purple creme. It's one of the first OPIs I ever bought, and it's still one of my favourites. Once it had dried completely I placed a wavy French tip guide down the centre of each nail and painted over with OPI DS Extravagance. It's a stunning berry purple with a scattered holographic effect. I've shown you it before but my photos are, quite frankly, embarrassing, so I won't link to it! While Extravagance was still wet I whipped off the tape, and covered with top coat once it had dried.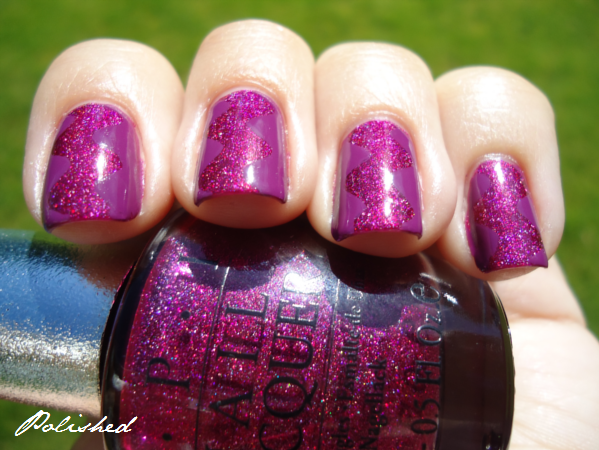 Can you believe I was actually disappointed with this manicure when I'd finished? In the shade the two purples kind of merge together, but then I went out in the sun and Extravagance came out to plaaaaay!