Evening! It was my birthday on Friday - yup, I was born only three days after Christmas. A lot of people seem to think this sucks, but I actually really like it. I don't usually have to work on my birthday, and my friends are usually all around too so it works out pretty well. I turned a quarter of a century old so to mark this feat I went on a night out with my friends. I was pretty restrained in my alcohol intake and only got a little tipsy, yay me. I was wearing five inch wedge boots so my feet were not happy by the end of the night, but apart from that I had a great time. :)
Because I am a weirdo I always like to have a colour theme when I go on a night out, and for my birthday it was black and gold. For my manicure I started with OPI Goldeneye and added a coat of holographic glitter, China Glaze Golden Enchantment, on top. Once it was completely dry I used tape to paint the tips black. Simple but effective.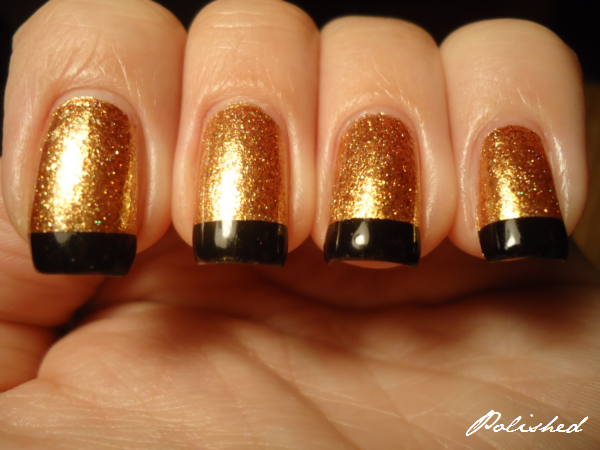 Do you have a colour theme in mind when you dress up for a night out, or are you less anal than I am? How do you do your own nails for your birthday?