I have my first Christmas nail art to show you today, and as should be obvious from the title, it features a Christmas tree!
Christmas trees are one of my favourite things about this time of year. Every year my parents and I go to our local tree farm to pick one - my mum and I are really particular about what tree we get so we often spend over an hour choosing. I remember one year my dad had to work at the weekend so my mum and I went together, found a tree, and had a hell of a time squeezing it into her VW Polo to take it home!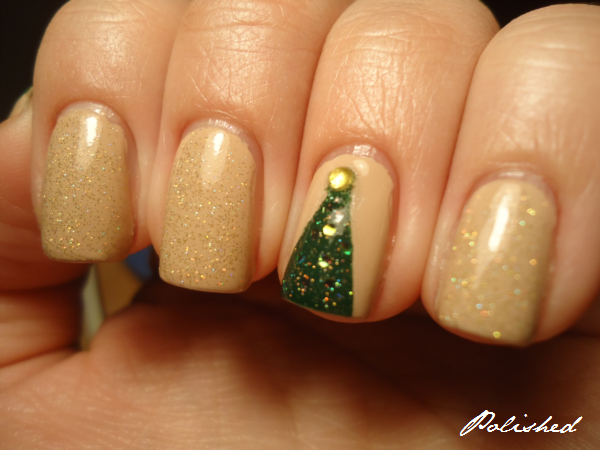 I wanted to try this design by Nailside but was short on time, so I simply used a striper and China Glaze Holly-day to make a green triangle on my thumb and ring finger. I filled it in with China Glaze Golden Enchantment and then added some loose disco glitter to represent baubles. Finally I topped the tree with a gold rhinestone and covered with top coat. On my other nails I did two coats of OPI Don't Pretzel My Buttons and one of China Glaze Golden Enchantment.