Deborah Lippmann polishes aren't widely available in the UK and they're pretty pricey. Until recently, the only polish I had from this brand was Razzle Dazzle, which came in a GlossyBox last year. However, I saw some nice swatches of Wicked Game online recently and it looked like my sort of colour, so I took the plunge and bought it. At £14, it now has the distinction of being the most I have ever paid for one bottle of nail polish!
Wicked Game is a purple/green/grey duochrome that is often described as looking like an oil slick. Application wasn't great. It dries to a chrome finish so it shows every imperfection. It also bubbled like crazy. Sad. Anyway, photo time: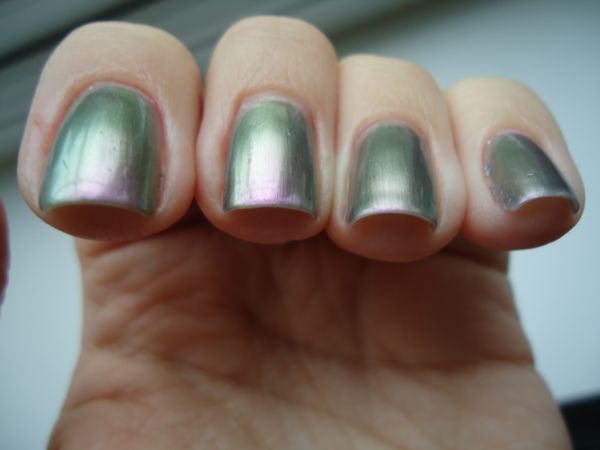 Despite the application issues, I like it. It has a very strong duochrome effect, and I love the colours it shifts to (even the green!). There are various similar, if not identical, polishes out there though - so if you're not willing to splurge on this brand, I believe Wet n Wild Anatomy, Essence Where's the Party?, OPI Not Like the Movies and Nubar Purple Beach are all quite close.