i carry your heart with me (i carry it in
my heart) i am never without it (anywhere
i go you go, my dear; and whatever is done
by only me is your doing, my darling)
- E. E. Cummings
Well, I couldn't have a Valentine's Day manicure without hearts, could I?!
I have a confession to make: I cheated with this manicure. I was going to freehand hearts on my nails, but I ran short on time so I decided to use Nicole by OPI Step 2 the Beat of my Heart instead. But I'm getting ahead of myself. I started with three coats of OPI Done Out in Deco. I initially did two, then added a third coat because when I looked reaaaally carefully, I could see a bit of VNL. Done Out in Deco is a lovely blue-toned lilac creme with a slightly dusty grey finish. I love lilacs anyway, but this one is especially pretty and spring-like (OK, it's not actually spring yet, but a girl can dream, can't she?). I have to say, the formula was an absolute dream to work with - painting my nails with it was a breeze.
My application of Nicole by OPI Step 2 the Beat of my Heart was another matter. It's pink and purple glitter hearts in a sparkly base. The hearts were a nightmare to get out of the bottle, so I actually ended up doing a coat of just the tiny opalescent glitter first, then used a cocktail stick to get the hearts out and put several on each nail. I'm pretty chuffed with the result, but the hearts really were a pain in the arse to work with.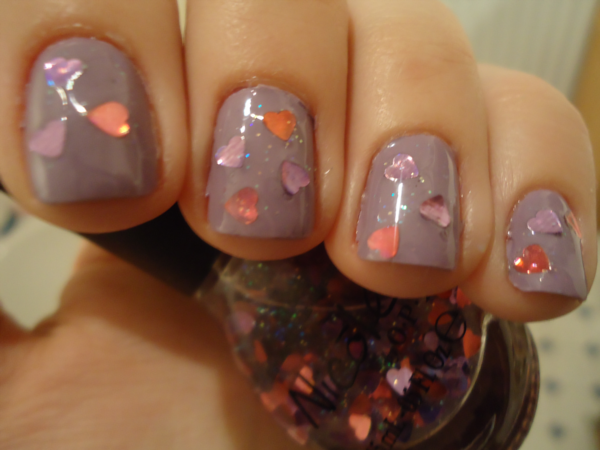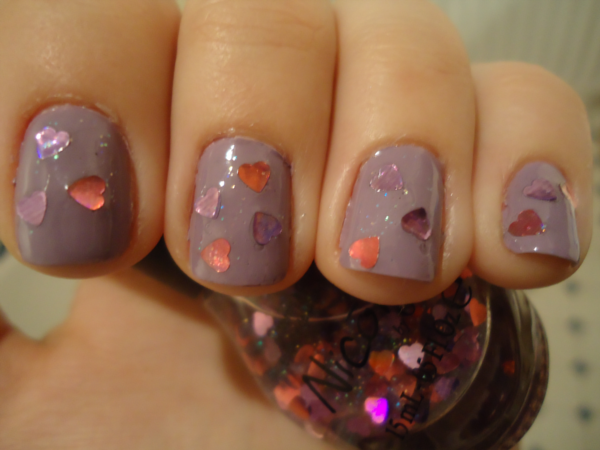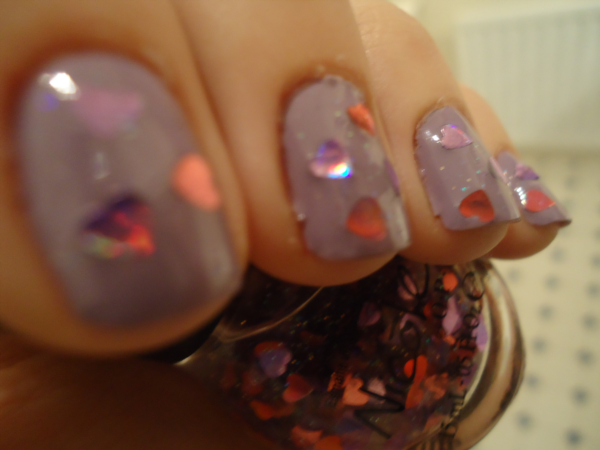 What are your Valentine's Day plans? I'm single this year, so I'm spending it with my darling Claude (whether he likes it or not!). I cut cucumber and carrots into little heart shapes for him and everything!