Now that the weather is warming up a bit, I have a cheerful spring-inspired manicure for you today. OPI Banana Bandanna (what a mouthful!) is a buttery yellow that's not quite lemon and not quite pastel. I believe it was part of a summer collection OPI released in 2009, but I got mine free when I subscribed to Grazia magazine a couple of years ago (along with
Done Out in Deco
, Moon Over Mumbai,
Oh So Glam!
and OPI Por Favor). In the bottle it has a subtle shimmer, but this didn't really translate onto the nail at all. It's
very
sheer - I did a coat of OPI Alpine Snow first, and Banana Bandanna still needed three coats before it was opaque! Gah.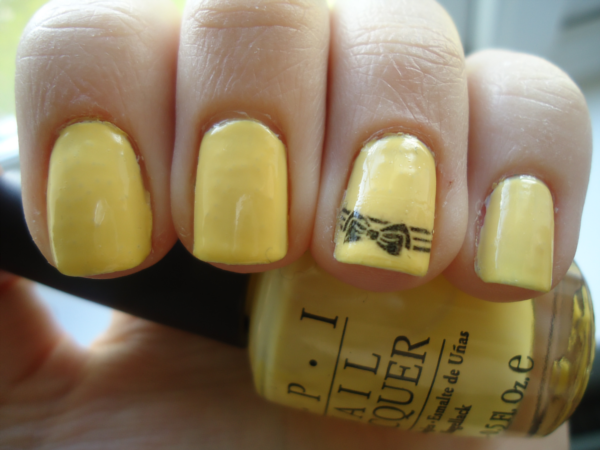 My mum's comment when she saw my nails was that it looked like I'd dipped them in custard. (My grandmother was less poetic and just said it looked awful.) Charming. As you can see, I added a little bow to my ring finger. This is a water decal I bought in a set on eBay
here
. They're really cute and very easy to apply.
So there you have it! A quick and easy spring manicure that's bound to turn a few heads - if only because they think you've dunked your hands in custard...