My mum and I visited Buckingham Palace yesterday to see the Fabergé exhibition (which was AMAZING, by the way), so naturally I had to bling up my nails a bit. I was going to do an extraordinarily OTT design but ran out of time, so I painted my nails a simple gold instead.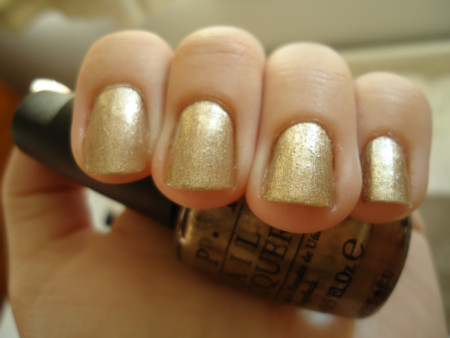 This is two coats of OPI Glitzerland from Autumn 2010's Swiss collection. It's a champagne-coloured gold with very fine gold glitter in it. It's almost a foil, but not quite. It's gorgeous indoors, but when the sunlight hits it all its sparkliness comes out (my photo doesn't do it justice):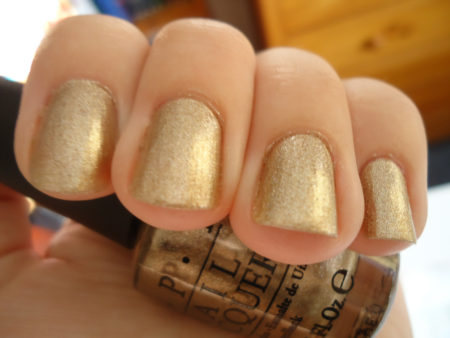 For those of you who have toured the Buckingham Palace state rooms you'll know that there is gold EVERYWHERE - tables, chairs, walls, ceilings... I thought my nail varnish matched this perfectly, and I'm really pleased with how this manicure came out. The formula is impeccable, and I've only had it on for a couple of days but it hasn't chipped yet.
No trip to London is complete without visiting a department store, so my mum and I trekked down Oxford Street in the blazing heat (in October!) to Selfridges. I painted her nail (yes, only one - my mum rarely wears any polish that isn't a pale pink) using a tester of Chanel Paradoxal. I can see why this nail varnish has received such mixed reviews. In the bottle it's a dark, greyish mauve with a lovely purple shimmer when the light hits it; on the nail it just looks muddy, with the shimmer basically nonexistent. Disappointing.