I decided to be good and limit myself to one colour from Orly's autumn offering, Birds of a Feather. Orly Fowl Play is the one that's been getting the most attention, and having seen
swatches
of the others I'm really glad I chose this one. Don't get me wrong, the others look beautiful, but Fowl Play is just a bit more special.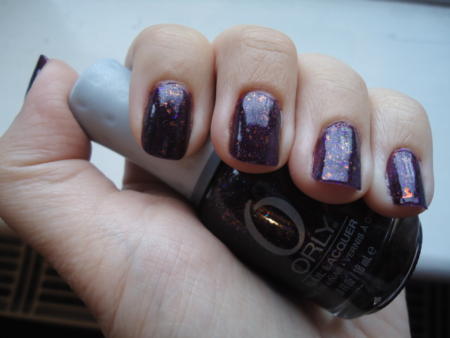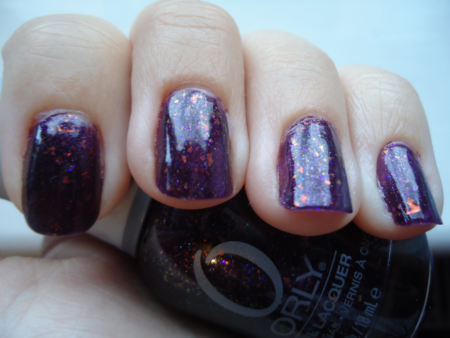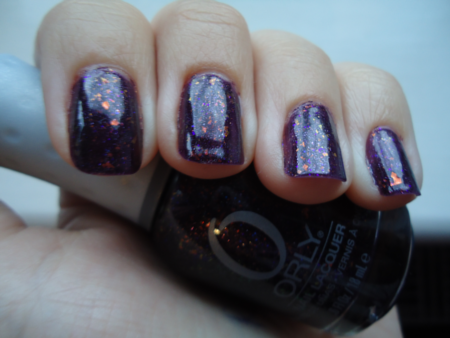 Fowl Play is a difficult polish to describe. It's kind of a dark purple jelly with red/green duochromatic flakes (I thought they were just red until they caught the light), blue glitter and silver microglitter. In bad lighting it looks mostly solid purple, but when the light hits it right, it comes alive with sparkliness!
My pictures show two thin coats with a top coat, but it could probably have done with a third coat of Fowl Play to be honest as it was a bit uneven. The formula was pretty good - a little thick, perhaps, but this didn't really interfere with the application (my so-so ability to paint my own nails did that!). Overall, I'm really pleased with it. It's quite vampy, and absolutely perfect for autumn.