I'm pretty rubbish at doing facy nail art, so I was ridiculously excited at the beginning of this year when the crackle trend really took off. It's such an easy way of making your nails look a bit different without actually having to do any tricky designs. The first crackle polish I bought was the black Nails Inc Camden, and yesterday I decided to use it to make a very simple Halloween manicure that anyone can replicate.
I started off with a base coat and then did two coats of Barry M Block Orange. I've been a huge fan of Barry M nail polishes for years - they come in a wide range of colours and are actually very good quality given how inexpensive they are (£2.99 usually). I then did a coat of Nails Inc Camden and waited for it to dry thoroughly. I was going to use a standard top coat but changed my mind and used GOSH Matte Dry top coat instead to make it a bit different.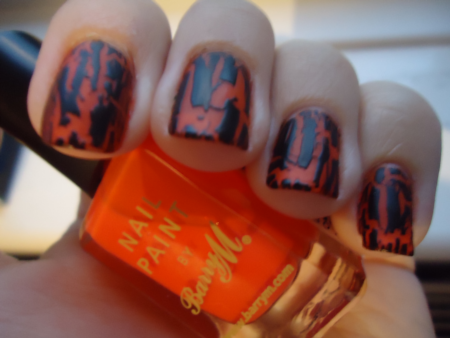 Usually I'm on the fence when it comes to matte nail polish, but I rather like how this turned out. I was going for just the standard orange/black Halloween colours, but I think it looks a bit like glowing lava oozing from a volcano, with the black crust forming on top as it dries (or is that just my overactive imagination...?). A surprising number of stangers told me they liked it today, so it's a win as far as I'm concerned!