Happy Halloween! I don't know about you, but my evening has been spent watching Fred Astaire films (NOT horror movies) and praying no trick-or-treaters come to the door, which fortunately they haven't. My manicure today isn't overtly Halloweeny, but I rather like it anyway.
I saw a tutorial the other day for a shredded funky French mani, and I decided to try my hand at it. I didn't have the patience to do it on every nail so it was only on my thumbs and ring fingers; my other nails had the standard French design on them.
After applying a base coat I did two coats of Nails Inc Augustus Street, which is a grey suede-effect colour that was part of their Texture Collection from earlier this year. I paired this with two coats of Illamasqua Vice, a rubber-look deep cerise. I'm not a huge matte fan as a rule, but I thought the difference in texture between the suede and the rubber would look pretty cool. The normal French was done freehand, while I cut a jagged pattern out of Scotch tape for the other nails.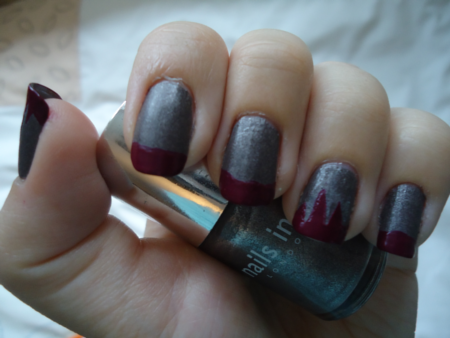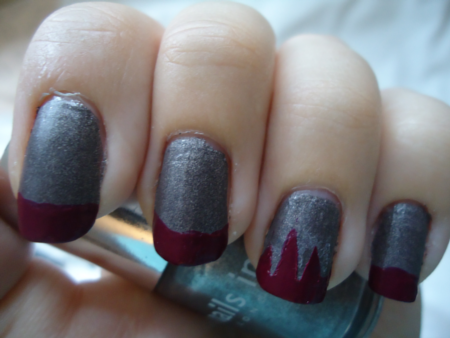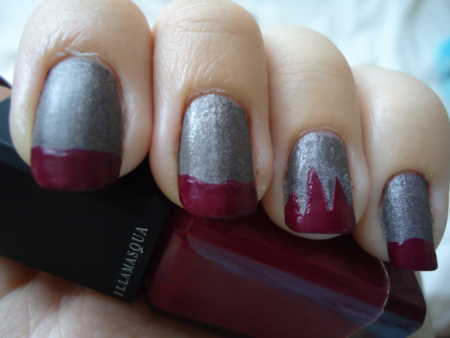 It's definitely not perfect - especially as I couldn't use a top coat to seal and smooth it - but for my first attempt at a shredded mani, I don't think it's too bad. I really like the contrast in textures, it creates a bit more interest.