For the last six months I've been living in a part of the country that seems to be stuck in a sort of 1950s time warp. It is the fashion version of no man's land. So imagine my surprise when I got distracted by the window display in a nail salon and found they were selling China Glaze nail polishes! After doing a little happy dance I popped in a bought a couple, including Devotion (a silver foil) and Grape Juice (a shimmery purple).
I used Devotion on my fingernails in preparation for a night out a couple of days ago. I haven't tried China Glaze polishes before, and I must admit I was a little disappointed with the formula. I've found that metallics are often either very runny or very thick, and this was definitely the former. It needed two coats to make it opaque and dried a bit streaky, although this evened out after I put a top coat on. It also bubbled a little, despite the fact I waited a good five to ten minutes between each coat. I love the colour though - it's a very bright silver that really stands out: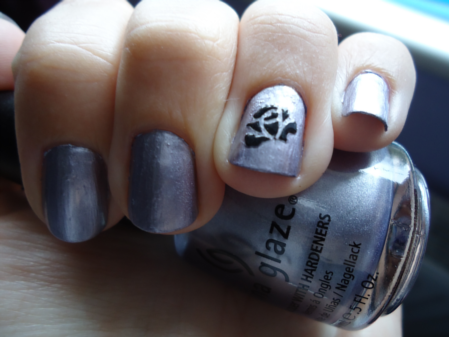 As you can see, I also used one of Claire's nail stickers on my ring finger. I'm a big fan of these. They're pretty cheap (£3 for the set) and they just make a standard manicure look a bit more fun: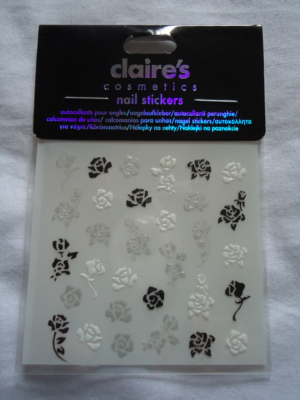 I'm on day four of this manicure now and it has yet to chip, which is a pleasant surprise. The formula on Devotion may have been a disappointment, but I'm also wearing China Glaze Grape Juice on my toes and it applied much better; it wasn't nearly as thin. I won't post a photo of it though because frankly I think feet are kind of gross and I don't want to subject anyone to looking at mine (you're welcome). So would I buy China Glaze polishes again? Probably...