My favourite nail colours - and in fact, colours in general - to wear are blues and purples. Sometimes I like them dark and vampy; more often than not, however, I like them as bright as possible. Especially when it's winter and the weather is grim, it cheers me up to look down at my brightly-coloured nails. Given that today is supposedly the most depressing day of the year, what better polish to show you than the brightest blue in my collection?
One of my favourite blues to wear is China Glaze Frostbite. It's a shimmery, lit-from-within blue. I find it to be a bit runny so you have to be more careful than usual during application, but it's such an incredibly vivid colour that I think it's worth the extra effort.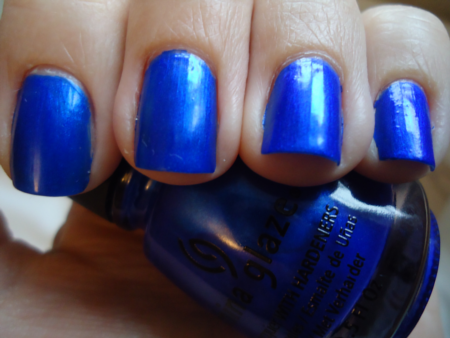 I was playing around with it the other day and layered a coat of Nails Inc Privileged, a blue/green flakie top coat, over it to make it even glowier. Then - as though that weren't enough - I stuck a couple of snowflake nail stickers that I found in my local Sally's on my thumb and ring finger.
Although not outrageous by my standards, the final design was the sort that made my parents give me a bemused look. So really, I consider it a success!