Happy Valentine's Day! I'm single (again) this year, but instead of moping I like to think of it as a 'me' day. So I'll be spending the day with my hamster Claude, plus Molly Ringwald and the rest of the Brat Pack - yup, I will be watching cheesy eighties films this evening. :) Are you doing anything for Valentine's Day this year?
My Valentine's manicure this year is based on a design by Chalkboard Nails. She freehanded an adorable pair of owls and I knew I had to give it a go. I love owls - according to my parents I've been obsessed with them since I was little - and recently I've been going owl mad. I've bought an owl necklace, jumper, snood and ring. Owl nails seemed an obvious progression!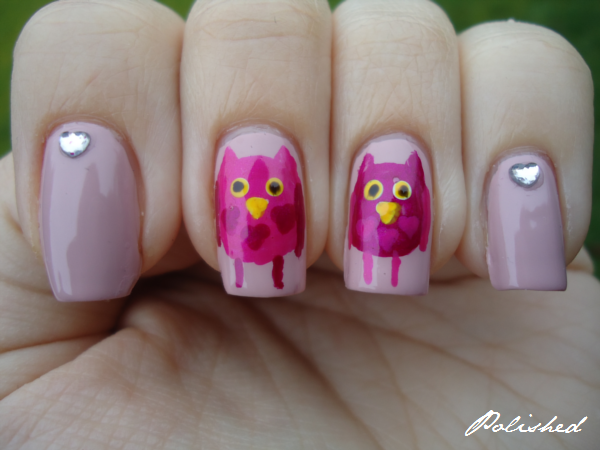 The base colour for this design was OPI My Very First Knockwurst, a pinky nude. The two pinks I used for the owls themselves are Essie Tour de Finance and Essie Sure Shot (which I also used for the hearts on my thumb). The heart-shaped rhinestones are from a set I got on eBay.
Right, I'm off to watch Sixteen Candles and eat too much chocolate. Have a great day!