Hello! Today I have one of the Nails Inc leather effect polishes to show you. I think 2013 is going to be the year of the textured nail polish, and Nails Inc is always at the forefront of new trends. When I first heard of the leather effect polish I presumed it would simply dry to a rubberised finish, but in actual fact it's much cooler than this; it dries slightly bumpy and really does resemble leather.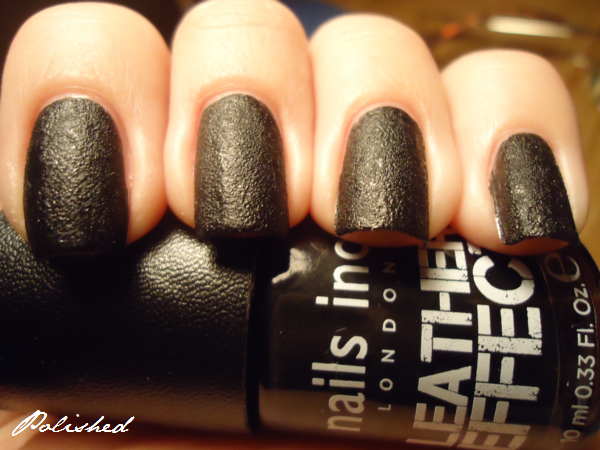 I used two coats of the leather effect polish. It's not quite as opaque as a normal black so it does really need both coats. It takes a little longer to dry than normal nail polish and you obviously can't apply a top coat or it will ruin the effect, but as long as you're prepared to wait it's fine. It's worth noting that while the polish doesn't dry smooth it also isn't gritty - it doesn't snag on anything. I actually found it quite entertaining to stroke my nails with this on!
The set costs £19 on the Nails Inc website and includes some 3D skulls, but I chose not to use these. I did, however, do some different nail art with this polish, which I'll show you tomorrow. :)
Have you tried the Nails Inc leather effect polish? What do you think of the texture trend? Are you a fan or do you prefer a smooth finish?